There are few styles of Australian architecture that connect so completely and definitively with its regional origins. The Queenslander home is synonymous with the relaxed lifestyle of the sunshine state, it has become an iconic symbol of the region's beautiful but sometimes brutal climate.
After decades of being passed over for modern double brick and plasterboard homes, the Queenslander has realised a resurgence in popularity as home-buyers appreciate the history and sophistication of a style born out of necessity. The traditional Queenslander has some obvious external features unique to its style, but it also has interior features that should be celebrated using careful and considered styling.
Professional styling can elevate an otherwise very functional Queenslander house to a magazine-worthy masterpiece that discerning buyers simply must have. Perfect Queenslander home design means understanding, and then elegantly highlighting, and celebrating the unique features of this quintessentially Australian architectural style.
What is a Queenslander Home
The Queenslander home became popular in the mid-1800s and remained so until the mid-1900's when cheaper, American-style brick homes began to flood the Australian market. Usually a single-storey home elevated above the ground, the Queenslander was built from readily available local lightweight timber. Large span roofs were made of corrugated iron in preference to tiles that were less storm resistant.
Visitors were invited, via central single or butterflied staircases, to enter through signature-style verandah doors reminiscent of an early settler saloon. Typically, verandahs are wrapped around at least two sides of the home. The verandahs allowed for the type of outdoor living that is now a feature of a balanced modern lifestyle, often including both closed and open areas. 
In a time long before air conditioning, the Queenslander home was designed to maximise cross ventilation beneath and through the home. French doors, high ceilings, and wall-width window systems allowed coastal breezes and radiant sunshine to pour into the home. 
Classic Queenslander Interior Design
What do French Doors, Timber Floors, and VJ Panelling have in common?
The answer is, wood. The rise of the sawmill in the late 1800s meant that local timber was readily available. It was also cheap and  lightweight, adaptable, and easy to work with, which is why it features so heavily in traditional Queenslander homes. 
Internal walls were lined with vertical joint timber boards, a much more tedious task than today where VJ comes in easy-to-install panels. VJ was often fitted floor to ceiling or part way up a wall in a manner similar to American-style wainscoting, this shared feature may be in part responsible for why there is such an overlap in Queenslander and Hamptons style.
The timber theme continued to the floors. Timber was hardwearing and easy to clean in an era well before the electric vacuum. Today, renovators are delighted to peel back dilapidated carpet or linoleum to reveal spectacular original timber floors. 
Timber french doors and windows framed internal spaces and halls and doorways were celebrated using delicate timber fretwork.
The timber-heavy interior of the classic Queenslander was often offset by stunning decorative plasterwork. Ornate cornices, beautiful ceiling roses, and impressive arches nodded to Australia's colonial history and served to both soften and elevate an otherwise very functional architectural style.
Large Kitchens and Bathrooms
In contrast to other architectural styles of the period, Queenslander homes were usually built with large eat-in kitchens, a feature that makes them perfect for the modern family. Kitchens often included a casual dining area and direct access to the verandah. Again, timber featured heavily being utilised for both cabinetry and bench tops. Contemporary renovations lend themselves to floating shelves, exposed brickwork, and brass fittings. 
Bathrooms were also larger than average but were far less decorative than the kitchen. However, they frequently boasted beautiful claw foot baths, a feature now high on a home buyers list.
Classic Queenslander Interior Styling
Celebrating a bygone era with sophisticated classic styling. 
It requires finesse, sophistication, and architectural empathy to style a historic home in a manner that is inspiring and engaging to a modern family. The team at Brisbane Makeover Co has nearly 20 years of experience styling and staging homes around Brisbane, much to their delight, many of those homes have been classic Queenslanders. Many buyers are now searching for the ultimate classic Queenslander renovated back to its former glory but with a luxe modern twist and flawless interior design.
Our goal is to complement and celebrate the age-old features of your home with stunning furniture, inviting textures, and bespoke accents. Often the vendor has lived in the home for so long that they can no longer see beautiful elements that have been obscured or forgotten by the trappings of life. Or perhaps a contemporary renovation or new kitchen has failed to let the architecture shine. Our styling team starts with a clean slate, stripping back the property to expose its beautiful bones. With unnecessary layers gone, the house can reveal its innate beauty. Often, we find life has created clutter or disconnection in the home decor, pieces that once held purpose now just hold sentiment that a potential new owner doesn't understand or need. 
Buyers want to envision how they would live in their new home, they don't want to know that someone already lives there, so removing personal items and well loved furniture is essential. Clearing the entire home provides us with a blank canvas from which to work. It allows us to see the long lines of VJ panels that create an artwork all of their own, drawing the eye to the high ceilings above. We can see where the natural light falls in the living room and then choose exactly the right sofa to bounce the light around the room and beckon buyers to imagine slouching on the couch sharing family time, or sitting lightly, sipping wine and entertaining.
Classic Queenslander homes are filled with features, as stylists, it is our job to appropriately hero or hide those features. We always chose furnishings and artworks that complement rather than compete with the natural elements in the home. In a Queenslander, occasional pieces are chosen to echo the building's connection between indoors and out and hint at a beach-loving Australian lifestyle just waiting for its new owner. In homes blessed with beautiful plasterwork like ceiling roses, we use minimal wall decor and directional lighting to highlight their exquisite features.
The Hamptons are well known as the weekend retreat of the wealthy elite of New York. These glamourous holiday homes ooze high-end coastal chic, and the popular style has recently spilled into interior design trends across the world. The stunning Hamptons style lends itself perfectly to the classic Aussie Queenslander home, but with a more subtle and livable overall aesthetic. White painted walls adjoined by rich wood floors offer both freshness and organic warmth.
The traditional Hamptons design style uses plush upholstery and luxurious textures of linen and velvet complemented by a neutral colour palette with pops of blue, grey, and brass to elevate the space. These techniques work well in a Queenslander home but current Australian trends lean more toward accents of black or organic greens and earthy rusts. Original brass fixtures, like door knobs and switches, can be amplified by including furniture with brass accents which add a touch of glamour and luxury to an old classic.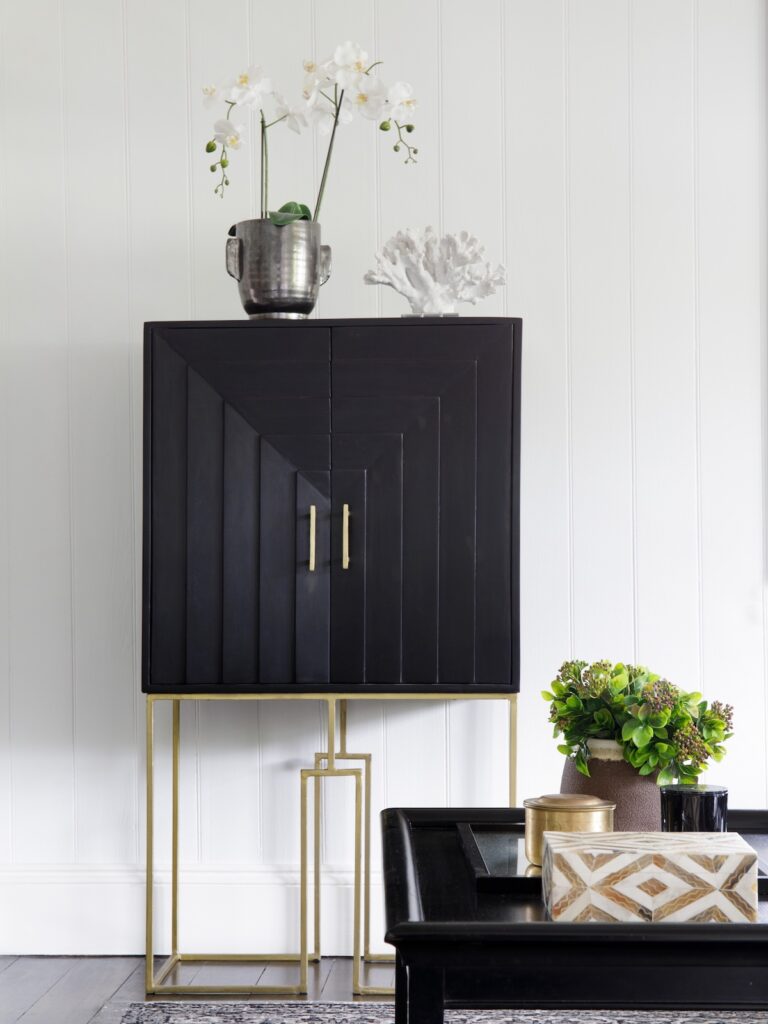 Hardwood floors, though generally beautiful and hard-wearing, can be cool underfoot and lack texture. Quality floor rugs made from natural fibres add warmth and depth to living spaces and bedrooms. Rugs can be used to define areas and hide flaws or add colour and individuality. A pop of colour or pattern on the floor can align with other soft furnishings to identify the purpose and personality of a room. For traditional Queenslander homes, we typically choose lush wool rugs in natural tones or on-trend traditional patterns in muted tones, such a rug can give a small sitting room a regal formality likewise a pastel faux fur can add fun but not age to a second bedroom. 
We also add texture with exquisite soft furnishings and decorator pieces. A plush velvet occasional chair placed deliberately in the corner of a bedroom gives a sense of opulence and luxury.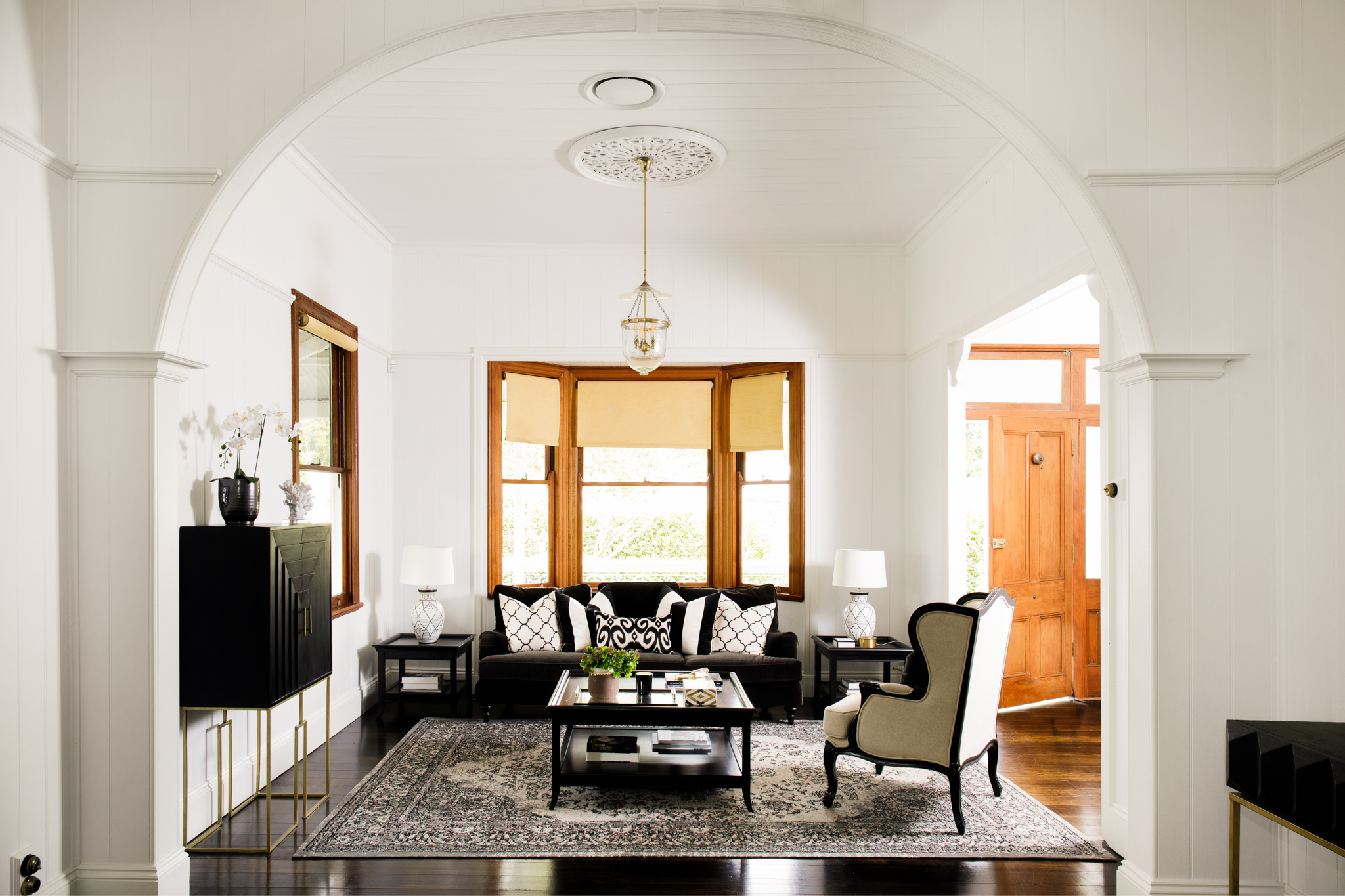 The signature verandah spaces, once used as extra space for bedsits with free-standing wardrobes and dual entryways, now, with a fresh colour palette and considered decorating, create a relaxed alfresco extension of the main living space. Styling with warm timbers, natural linens, and lashings of lush greenery, inspire potential buyers to dream of a blissful life spent living and entertaining outside in the warmth of the sun but protected by the awnings and screens of their verandah.
Brisbane Makeover Co leaves no detail unattended, staging includes table settings, soft furnishings, and potted plants, with appropriate styling extending into the garden and pool area to create a complete and unified aspirational design palette. We can even include a swing set if the target market demands it.
Looking to bring out the best in your property?
The Queenslander style is rapidly becoming synonymous with beautiful homes. Potential buyers dream of living in homes like those featured in commercial and social media. Having your home styled and staged by professionals allows buyers to step into their dream and indulge in the possibility of their vision becoming a reality. Professional styling by Brisbane Makeover Co brings out the best in your property and helps you realise returns often well above asking.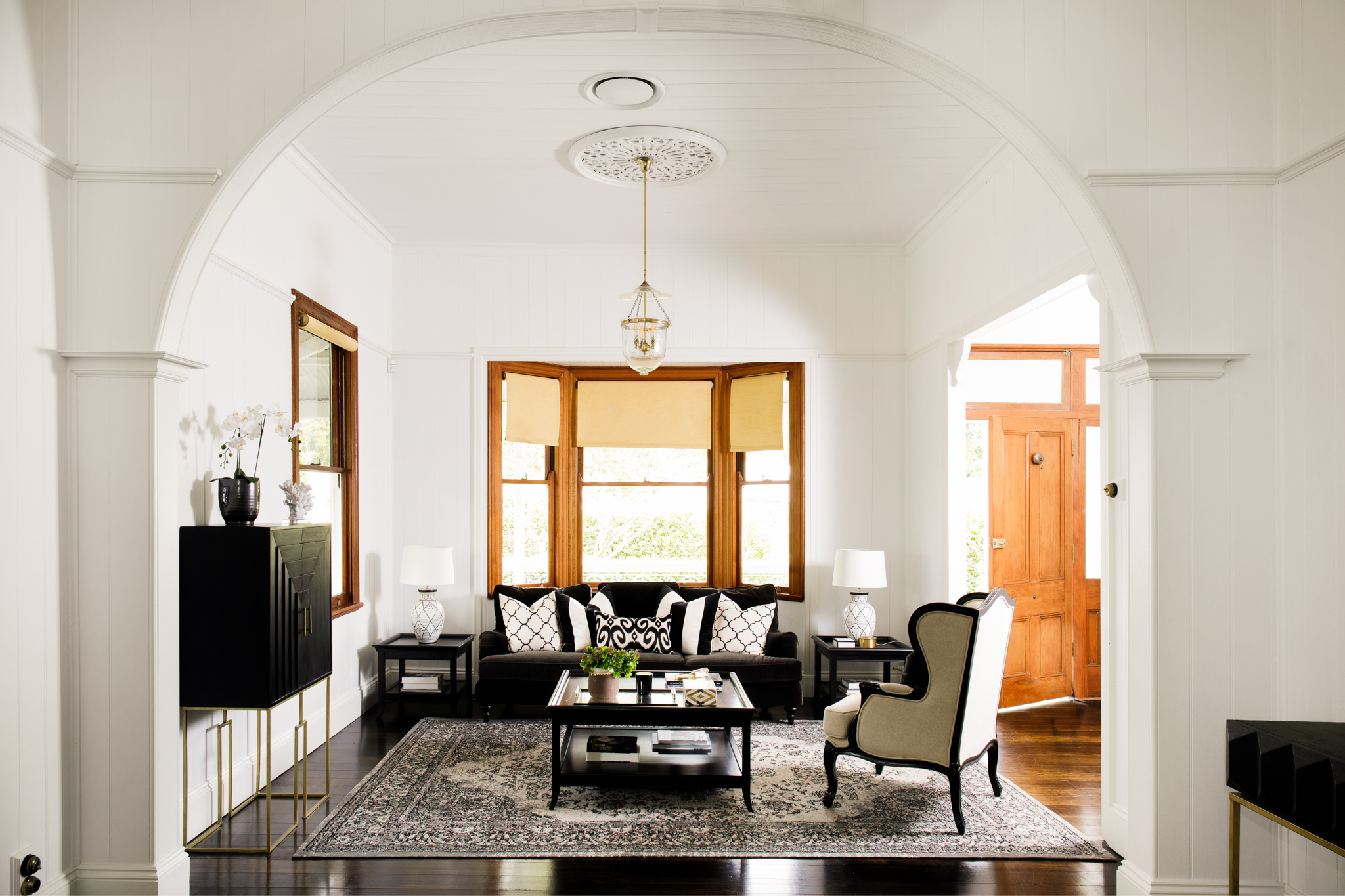 "Queenslander records sale $600,000 above asking"